Studio Edwin van der Heide
Schwingungen - Schwebungen
Schwingungen - Schwebungen is a work commissioned by the Beethovenstiftung Bonn in the context of their city sound art project bonn hoeren.
Schwingungen - Schwebungen was originally conceived for the University Library in Bonn. The library building, designed by Fritz Bornemann, has a very structured and minimal design with a clearly defined field in front of it. Situated in the middle of this field is the sculpture Die Wolkenschale by Hans Arp. The marble sculpture creates a contrast between the rational architecture and the floating and ephemeral qualities represented by the cloud. Schwingungen - Schwebungen brings a time-based, spatial and possibly more ephemeral component into the play between the building and the sculpture. Schwingungen - Schwebungen uses compressed air in combination with pneumatic valves to produce sound waves (Schwingungen). Acoustic horns are used to couple and direct the pneumatic energy to the acoustic environment. Large monumental wooden horns are placed on the sides of the field and smaller circular metal horns are distributed throughout the field. The horns produce round sounding tones in the middle and low frequency registers of our auditory range. Schwingungen - Schwebungen is a permanent but slow changing composition resulting in spatial interferences (Schwebungen) between the sounds from the individual horns. Since these interferences don't originate from the individual sources they are perceived as if they are spatially floating in and traveling through the field. Where we normally associate a sound with its sound source Schwingungen - Schwebungen brings in a 'sourceless' but almost tangible spatial perception of sound into play.
After the exhibition in Bonn a new site-specific presentation of Schwingungen - Schwebungen has been developed for the land tongue of DordtYart in Dordrecht, The Netherlands.
Schwingung - Schwebungen
photo Meike Boeschemeyer
photo Simon Vogel
photo Meike Boeschemeyer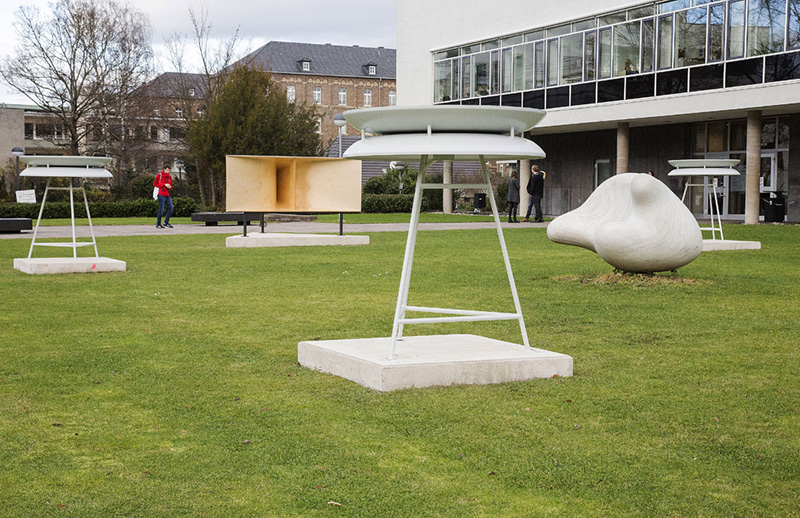 photo Meike Boeschemeyer
photo Meike Boeschemeyer
photo Meike Boeschemeyer
photo Meike Boeschemeyer
about
| | |
| --- | --- |
| composition and concept: | Edwin van der Heide |
| realization: | Edwin van der Heide with Markus Oppenländer, Richard Heßler, Olaf Wisselink and Thijs Muijs |
| curator and project director bonn hoeren: | Carsten Seiffarth |
| technical director: | Markus Oppenländer |
| consultancy: | Architekturbüro Bernd Troske |
| keywords: | pneumatic sound, sound art, new media art, generative art, music, composition, sonic architecture, public space, spatial sound, installation, immersive environment, electronic, computer music, technology, composer, artist, exhibition, Fritz Bornemann |